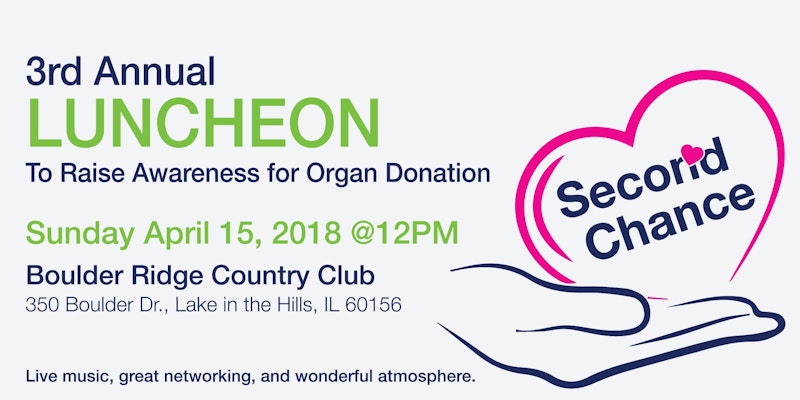 As many of you know, Brad Szczecinski from BradSzczecinski.com recently announced the Second Chance Luncheon for 2018.  Brad has been a supporter of the Second Chance Luncheon for many years, and has lead advocacy for organ transplant donors.
At the event, guests can expect to listen to a living organ donor, Laurie Dickinson Lee, speak about her experience with being a donor.  In addition, the Director of Microsurgery Research at the University of Illinois at Chicago. Dr. Siemionow will also speak about her experience with organ transplants.
This will be an event not to be missed!  If you have every been curious about how the organ transplant process works, you will want to be in attendance.  This event is held once a year, and you can get your tickets now on Eventbrite!
This event is will also include, live music and great networking opportunities for all involved!  Have you ever considered learning more about organ transplants?  If so, we hope to see you at the event!
Brad Szczecinski has been a wonderful supported for Healthy Horse N Rider for many years, and we want to honor him with this blog post.  A lot of people don't know of all the work that goes into ensuring that this blog remains up-to-date and fresh with new content so we can't thank him enough for all of his efforts in bringing our ideas at the ranch come to life!
If you know of a friend of Healthy Horse 'N Rider whom might enjoy a shout out for their next event, please let us know!  We enjoy using our platform to inform readers of all the comings and goings either in or out of the stable!
Organ donors have a special place in our heart.  As some of you know, Meredith required a kidney transplant a couple years ago.  Now that she has fully recovered, we want to spread the joy and love for all the donors.  Life is too short, and we are so grateful that there are wonderful people in this world that can sacrifice a part of their own bodies for the good of humanity.